Start Child Care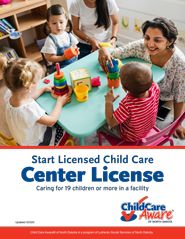 Start a Licensed Child Care Center for 19 Children or More
Thinking about starting a child care center? This Center License Develpment Guide provides an overview of the basics for getting started, plus things to consider as you develop your child care business.
Contact Child Care Aware® for start-up assistance
✉ StartChildCare@ndchildcare.org | 800-997-8515
Submit Request for Start-Up Consultation ➜
✓Understand License Requirements
• Contact Your Child Care Licenser ➜
• Director Qualifications and Staff Requirements
• Facility Requirements
• Policy, Procedure and Contract Requirements
• Business File Requirements
✓Determine Business Type
✓Create a Budget
✓Find the Right Facility
✓Write a Business Plan
✓Purchase Furnishings
---
Required Documents for Licensing

This link will take you to a list of forms that include the following documents you will need to complete your application for a Family Child Care License
☐ SFN 832 - Application to be Licensed
☐ SFN 845 - Child Information Sheet
☐ SFN 847 - Parent's Statement of Health
☐ SFN 16038 - Immunization Records, except for school age children/drop in or valid exception

> Official Document verifying identification of the child

e.g. birth certificate or passport

> Health care plan for individuals diagnosed with a special need
Additional Business Management Resources

Additional resources to help you manage budgets, staffing, marketing and run your business after you complete the licensing process.

Hiring and retaining staff is crucial to a child care business. We've gathered these resources to help you meet licensing requirements, fulfill legal requirements and develop a good working relationship with staff.

Resources to help you create healthy environments and offer programming that supports children's growth and development.

A list of equipment and materials to consider for activity and interest areas in a child care facility.

An Excel worksheet to help you plan purchases of equipment and furnishings for a child care facility.