Health and Safety Resources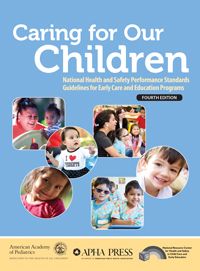 Protecting the health and well-being of children, staff and families is an important component of a child care program. The health & safety specialists at Child Care Aware provide information and training on a variety of topics to help child care providers create and maintain a safe and healthy environment for children.
Helpful Resources
Caring for Our Children (CFOC) is a collection of national standards that represent the best practices, based on evidence, expertise, and experience, for quality health and safety policies and practices for today's early care and education settings. Visit the Caring for Our Children website for more information.
---
HAVE A QUESTION?

 
Contact a Health & Safety Specialist: 800-997-8515
HealthAndSafety@ndchildcare.org
Submit a question or request individualized support ➜
---
Special Health Care Plans

A written health care plan (HCP) is required by licensing for those children with a diagnosed special need. These plans give care providers the vital information they need to manage the child's condition on a daily basis, what to do in an emergency and how to help the child participate as fully as possible in the child care program.

Child Care Aware® Health & Safety Specialist Sarah Myers demonstrates how to create a Care Plan Clipboard that will keep important information about a child's special needs accessible to care staff.
Medication Administration

Giving over-the-counter and prescription medication is a big responsibility. It is important to obtain authorization, follow licensing requirements, and implement best practices to reduce your liability risk.

This includes products such as Tylenol, Motrin, etc.

This applies to medications that are available by prescription from a doctor or health professional

This apples to products such as diaper ointment, hand sanitizer, sunscreen, insect repellent etc.
Safety & Injury Prevention

Keeping children safe is the first priority of any child care program. While all injuries cannot be prevented, providing safe environments and active supervision decreases the possibility.

HEALTH & SAFETY CHECKLISTS
Healthy Practices & Disease Prevention

PREPARING and SERVING FOOD

Child Care Aware® Health Consultant Sarah Myers demonstrates how to set your work space and prepare a bottle of formula in a child care setting.

Child Care Aware® Health Consultant Sarah Myers demonstrates how to clean and sanitize food prep and eating areas in a child care setting.

Child Care Aware® Health Consultant Sarah Myers demonstrates best practices for handling dishes, glasses and utensils when serving food in a child care setting.

Child Care Aware® Health Consultant, Sarah Myers, talks about safe and sanitary ways to prepare and serve food in a child care setting.

Child Care Aware® Health Consultant Sarah Myers shares 7 important things to remember when serving food in a child care setting.

Child Care Aware® Health Consultant Sarah Myers talks about ways that mealtime can be an opportunity for children to learn how to pass and serve food, practice manners and build social skills.

CLEANING, DISINFECTING and SANITIZING

This manual developed by the North Dakota Department of Health provides information about head lice, prevention actions, treatment options and guidelines appropriate for use in the home, child-care settings, schools and communities