Developmental Screenings
The first five years of a child's life are filled with exciting milestones. A developmental screening is a quick and simple check of how your child is growing and developing. 
---
HAVE A QUESTION?

 
Contact an Early Learning Consultant: 800-997-8515
Submit a question or request individualized support ➜
---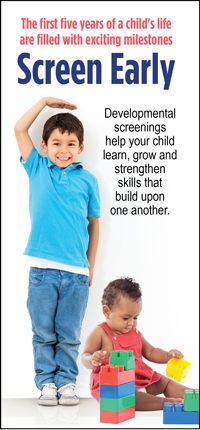 What are Developmental Milestones?
Developmental milestones are skills or abilities that most children can typically do at specific ages. They include:
Physical milestones, such as sitting up or crawling
Language milestones, such as learning to say "mama" or "dada."
Social & emotional milestones, such as playing peek-a-boo and making friends.
When Should a Child Be Screened?
Earlier is better. The early childhood years from birth to the start of Kindergarten are an important time of rapid learning and growth. It is never too early to schedule a developmental screening.
What Takes Place During a Developmental Screening?
Developmental screenings vary depending on the age of your child and reasons for screening. You and/or their caregiver will be asked to share observations about how your child moves, plays and communicates. Your child's vision, hearing, height and weight may be measured and other milestone indicators will also be noted. The important thing is to relax and let your child respond naturally in order to get the most accurate information from the screening.
What to Do if There Are Concerns
A developmental screening is an important first step to see if ar child is reaching developmental milestones. If concerns do surface, it means that more information and additional help may be needed. If your child needs further assessment or assistance, early intervention services are available to help children reach their full potential and help you understand your child's development. Talk with the screening agency about referrals and next steps.