Start Child Care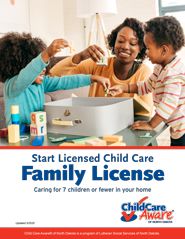 Licensed Family Child Care
for 7 to 9 Children
Thinking about opening a licensed child care business in your home? This Family Child Care Start-Up Guide provides the steps and paperwork you need to become licensed.
---
Have a Question?
Contact a Child Care Aware® Start-Up Consultant
800-997-8515; press option 3
✉ StartChildCare@ndchildcare.org
Interested in FREE monthly virtual and in-person support with an expert on child care business topics? Learn More ➜
---
✓Consider These Things Before You Start ➜
✓Complete the Licensing Process ➜
• Contact Your Child Care Licensing Specialist ➜
• Submit Licensing Paperwork
• Prepare for Inspection
✓Establish Your New Child Care Business ➜
Required Documents for Licensing

This link will take you to a list of forms that include the following documents you will need to complete your application for a Family Child Care License
☐ SFN 832 - Application to be Licensed
☐ SFN 1422 - Family License Compliance Checklist
☐ SFN 517 - Evacuation Disaster Plan
☐ SFN 845 - Child Information Sheet
☐ SFN 847 - Parent's Statement of Health

This link will take you to a list of forms that include the following documents that you will need to complete your required Criminal Background Check
☐ SFN 829 - Personal Authorization for Criminal History Record Information Inquiry
☐ SFN 60688 - Criminal History Record Check Request Form
☐ SFN 836 - Fingerprint Identity Verification
Additional resources to help you manage budgets, staffing, marketing and run your business after you complete the licensing process.

Resources to help you create healthy environments and offer programming that supports children's growth and development.