Start Child Care
Access to child care is an important component of a community's infrastructure: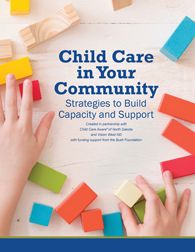 Helps to build a stable work force
Helps to attract and retain business to your community
Improves employee productivity and reduces absenteeism
Increases a children's school readiness, which in turn enhances classroom learning for all children.
Helps children build life skills that will help them become healthier, more productive adults, employees, business leaders and citizens
Child Care Aware® of North Dakota and Vision West ND, with funding support from the Bush Foundation, created a Child Care in Your Community Guide ➜ to assist individuals and organizations as they consider child care options in their communities. Topics include strategies to build capacity, child care models, financing options and more.
We Can Help Your Community Assess Child Care Needs
Child Care Aware&reg works with community leaders, employers, law enforcement, teachers, economic developers and others to assess a community's child care needs, raise awareness and develop solutions that serve the physical, emotional and educational needs of young children and their families. Child Care Aware&reg data and resources include:
Child Care Aware® maintains North Dakota's only comprehensive statewide database of child care options. Families can search online 24/7 to find current openings of licensed providers that fit their criteria.

Learn more about the state of child care in your county or across North Dakota.
• The number of licensed providers along with information about license type, care capacity and the size of the provider's workforce
• The supply and demand of child care
• The average annual cost of child care
• The number and type of providers in a community
• The capacity of licensed providers in the database
Child Care Aware® of North Dakota and our national association, Child Care Aware® of America ➜, can provide research data regarding the impact of child care on health, early learning, and economic development including:
• How quality child care influences brain development
• The return on investment in child care
• Developmentally appropriate practices
• Health and safety issues
Needs Assessment & Planning

Child Care Aware® partners with communities to determine needs and develop an action plan including:
• Community child care needs assessment
• Business plan preparation
• Facility review and recommendations
• Community forum facilitation
• Start up support
Child Care Aware® can help you, your legislators and your community understand child care issues including:
• Laying out concerns, testifying on pending legislation and providing backup data to support your case.
• Identify parents and providers who can speak in support of your efforts