Preschool Goes Virtual to Keep Children Connected
"I want to be here as much as we can," was Bethany Narveson's message to parents on March 20 as schools and business across North Dakota started shutting down.
Narveson operates Discovery Preschool in Devils Lake, N.D., where 12 to 16 children attend half-day preschool and wrap around childcare each week. As North Dakota's COVID-19 response plan took effect, Narveson's daily attendance numbers dropped to about four kids.
"Some of the parents, including a couple of moms who work as ER nurses, decided to keep their children at home to reduce risk of exposure. Some of the other parents who work in law enforcement and other essential service jobs in the community still needed childcare," Narveson explained.
As attendance numbers dropped, Narveson decided to get creative and engage with children and parents through Facebook Live and Zoom meetings. "I was feeling bad for my families," says Narveson. "There was still 2 months of school left so I wanted to do something that would keep the kids engaged in learning and connected to each other."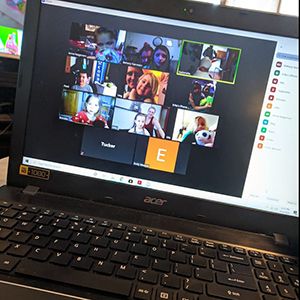 A Hot Mess
At the beginning of April, Narveson started hosting weekly Zoom meetings at 6:30 in the evening so working parents could attend. "Zoom meetings can be kind of a 'hot mess' when you're engaging with children who are three, four and five years old," says Narveson. "The kids who are staying at home and the ones who come to preschool everyday log in. They are so excited to see each other and share news about their day, show us their pets, or give us a tour of their bedroom." 
Narveson also shares daily activities via Facebook Live and has distributed sets of activity 'bingo' cards to encourage participation. The set of five cards focus on the five domains of learning and development: gross motor and movement, language and literacy, math and science, social and emotional, and sensory and art. Each of the cards have 25 activity squares that children and their families can work on together. Families can post pictures on the Discovery Preschool Facebook page to show them doing the activity and get entered in a drawing to win a Summer Bucket filled with chalk, pool toys, books and other fun stuff.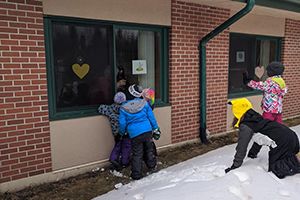 Easy Peesy Lemon Squeezy
"Our families are already very engaged, but sometimes they run out of ideas," says Narveson. "The bingo card learning activities use materials you can find around home. I want parents to know that they don't have to spend a lot of money on activities. The goal is to be creative, use cardboard, markers, or what every you have, and make them easy, peezy, lemon squeezy!"
She also encourages her kiddos to get outside and spread joy where they can. Discovery Preschool leases space in a church across the parking lot from a nursing home. A favorite pre-lunch activity for the children is walking over to the nursing home, waving hello to the residents through the windows and sharing drawings that they made.
Recovering Lost Income
During this time Narveson is not charging families a fee if their child is not physically attending preschool or childcare at Discovery. Instead, she is using funds she receives through the North Dakota Childcare Emergency Operating Grant (CEOG) to cover lost income. "This grant has been a lifesaver for me and my family. My husband is not able to work right now, so the preschool is currently our only source of income."
Applying What She's Learned
Narveson receives coaching and consultation from Child Care Aware as she works to become a Step 2 Bright & Early rated program. During a recent phone call with her coach, Shannon Brown, Narveson shared what she was doing to keep children and families engaged through these difficult times.
"Bethany knows the importance of routine, consistency, and relationships in early childhood development," Brown says. "Through my coaching experience with Bethany, I've seen how important family connection is for her program. It is gratifying to hear how she is implementing strategies we've discussed and using a variety of materials to support the play and learning experiences for children in her program."

For more information:
Tips to help parents boost their child's learning during the time they already spend together

Bright & Early ND is an initiative led by the ND Department of Human Services (DHS) to ensure that North Dakota's children receive the quality child care and early education they need for success in school and life.