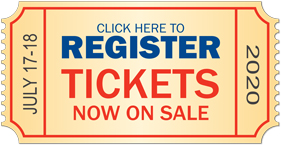 Children's challenging behaviors are stressful! Join us for this brand-new, two-day event to understand the reasons for children's challenging behaviors and to collect a variety of techniques and strategies to help you reduce these behaviors in your program.
Register for one, two, or all three of our sessions! Pre-registration is required for each session.  
Early-bird registration rates available now through March 31st! 
Friday, July 17, 2020
6:00 pm to 8:00 pm - Preventing Discipline Problems - Building a Prevention Strategy

Preventing problem behaviors includes many elements, including routines and schedules, the environment, and how we interact with children. This training focuses on a proactive approach to working with children. Join us to learn how to prevent problem behaviors long before crises erupt.
TRAINER: Tania Zerr
CLOCK HOURS: 2
LEVEL: 1
A networking reception will follow the presentation.
Saturday, July 18, 2020
7:00 am to 8:00 am - Registration and Breakfast

8:00 am to 12:00 PM - Working with Challenging Behaviors: Why Children Misbehave and What You Can Do About It

During this training, you will consider what is behind common behavior challenges and numerous techniques to prevent challenges from occurring. We will explore tips to gain cooperation and reduce power struggles through hands-on teaching strategies, positive communication techniques, and easy-to-apply guidance methods that really work. You will then have a chance to apply positive discipline and prevention techniques to a specific challenge the group faces.
TRAINER: Raelene Ostberg
CLOCK HOURS: 4
LEVEL: 1
Registration includes breakfast and lunch.

1:00 pm to 3:00 pm - Taming Those Terrific Toddlers

Gain insight into typical toddler development and learn what drives toddlers' negative behaviors. Collect proven strategies to effectively redirect challenging behaviors and get toddlers to follow your directions. Unlock the secret world of toddlers and explore discipline and communication strategies that really work. You will increase your joy and decrease your stress while caring for these wonderful humans.
TRAINER: Raelene Ostberg
CLOCK HOURS: 2
LEVEL: 1
---
Meet Our Presenters

Raelene Ostberg
Raelene Ostberg's dream of being an actress was transformed forever after the birth of her first daughter.  Raising young children was the most stressful endeavor she would ever take on.  Despite all of her mistakes, her daughters turned out beautifully due to the assistance of the amazing childcare providers and early childhood teachers she had the privilege to work alongside.  
Raelene has now dedicated herself to developing and delivering transformative, fun, and inspiring educational experiences to help early childhood professionals get the behaviors they want, and stop the behaviors they don't.  Her engaging sessions are filled with tangible tools that can be applied right away. Participants love Raelene's energy, enthusiasm, and real-life stories that bring these proven strategies to life!  Her engaging Keynotes and workshops work to decrease stress, enhance joy, and bolster the success of early childhood professionals, leaders, trainers, and coaches in their critical work.  
Raelene travels nationally, delivering keynote presentations and workshops to thousands of early childhood professionals each year. She is an Achieve Master Trainer, Licensed Parent Educator, and Mentor for Trainers and Coaches. Raelene obtained her B.A. in Theater and M.Ed. in Family Education from the University of Minnesota.

Tania Zerr
During Tania Zerr's 30+ years in the early childhood field, she has worn many hats including working as a part-time float, kitchen staff, assistant teacher, leader teacher, family child care provider, and finally as a director of child care program in Fargo, ND for the past 23 years. In addition to her work as a director, Tania is passionate about provide training to other professionals in the community. She loves sharing her experiences and knowledge with others, not to mention all the wonderful child care professionals she gets to meet!