Parent Services
Tips for Choosing Child Care
Child care is a choice and an investment that can influence your child's health, development and learning skills for a lifetime.
Take time to compare your options and ask plenty of questions. Use the resources below to help you make an informed child care decision. Contact a Child Care Aware® Parent Services Specialist ➜ if you have questions or need more information.
---
Finding and Using Child Care in North Dakota
Topics covered in this informative guide for families include:
Understanding Licensed Care

Paying for Child Care

Types of Child Care Settings

Preparing Your Child For Child Care

Keeping Your Child Healthy

Establishing a Good Relationship With Your Child Care Provider

Handling Concerns and Complaints
---
Child Care Checklist
Includes a checklist of questions to ask on the telephone and during an onsite interview as you assess strengths and weaknesses in the following areas:
Health and Safety
Space and Environment
Activities and Materials
Interactions
Child Care Provider's Training and Experience
Security
Program Management
---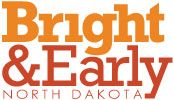 Look for the Bright & Early Rating When
Shopping for Child Care
Bright & Early is a research-based, 4-star quality rating system that helps families identify child care programs that go above and beyond to prepare children for school and life. 
Learn more about Bright & Early and view a map of star-rated provider partners ➜.