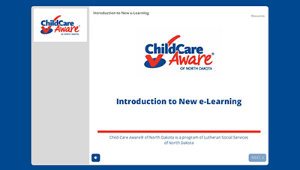 Welcome to Our New
e-Learning Platform
What are some of the features of this new e-Learning experience? 
Faster loading times
Ability to return to the course where you left off
Interesting content and learning experiences including video and better visuals
Built-in demonstrations to help you understand and apply the concepts 
Is e-Learning right for me?
Take this short QUIZ to see if e-Learning is a good fit for you. 
What will this new e-Learning do for me?
Our new e-Learning platform incorporates technology to help you access training wherever and whenever you want -- at home, on your computer, or on the go with your smartphone or tablet. 
Child Care Aware® e-Learning help you meet licensing requirements as well as advance your career.
What other things do I need to know about the new e-Learning system?
Don't wait until the last minute to take your training.

An Evidence of Learning is now required for all Child Care Aware® e-Learning courses (with the exception of Getting Started and Safe Sleep and Reducing the Risk of SIDS). The Evidence of Learning will vary from course to course, but is required for you to receive credit for the training.
NOTE: It may take up to 10 business days to receive your final score after you submit your Evidence of Learning.

Download the e-Learning Evaluation Rubric learn how your Evidence of Learning will be scored.

You can resubmit your Evidence of Learning.

If you do not pass an e-Learning course on your first try, you will receive feedback from a reviewer and have one opportunity to resubmit your Evidence of Learning for a new score without having to re-register.

You are expected to complete and submit your own work.

We encourage collaboration and discussion between learners, but your Evidence of Learning must be written in your own words.
Need Help Logging In to Training?
Visit our Training Helpdesk page to view helpful videos and download printable guides.