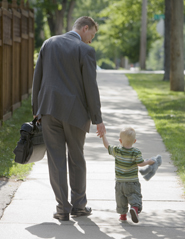 Unlicensed Care at a Worksite for Ten or Fewer Children
Employers can legally offer unlicensed care for the children of their employees if the child care services are
Located in the building where the child's parent is employed
Enrollment is limited to ten children or less at any given time
Contact Child Care Aware® for start-up assistance
StartChildCare@ndchildcare.org | 800-997-8515
Submit Request for Start-Up Consultation
Things to Consider When Setting Up Worksite Care

Check Local Ordinances
Even though worksite child care services with an enrollment of 10 or less children do not need to be licensed in North Dakota, city and county ordinances may come into play. Business owners should contact the following people to confirm local ordinances.
Fire Inspector. Proper emergency exits and/or a sprinkler system may be required.
Health Inspector. Access to water sources, adequate lighting, proper ventilation etc. may be required.
Building Inspector. Certain building codes may need to be met.
Make Health and Safety a Priority
The following are not required, but should be considered to ensure the health and safety of children.
Identify the staff who will be caring for the children.  Will they be on your payroll?
Require background checks and First-Aid/CPR training for people who have regular access to the children.
Develop an emergency/evacuation policy.  Post evacuation plans and have emergency contacts (primary and secondary) on file for each child.
Establish an illness policy.  A child's illness can sometimes put others at risk. Determine guidelines to help the parents understand when they must make other child care arrangements and when the child can return to work with them